Dr. Mark Reynolds (APM)
Between 1988 and 2009, Dr Mark Reynolds served with the Western Australia Police (WAP) as a sworn officer. He performed in a variety of positions including VIP Protection and Counter Terrorist Intelligence, Public Order Control, City and Rural Uniformed Patrol and as a Police Prosecutor. In February 2000, Dr Reynolds was seconded to the Australian Federal Police for deployment to East Timor where he acted as the principle legal officer attached to the United Nations War Crimes Unit. Upon his return to the WAP he was posted to Forensic Field Operations ultimately taking up the position of Case File Supervisor (Homicide) providing administrative and technical oversight on all forensic homicide investigations across WA. Between May 2004 and April 2006 and February 2008 to January 2009, Dr Reynolds was also the WAP Forensic Manager for the scientific discipline of Bloodstain Pattern Analysis (BPA).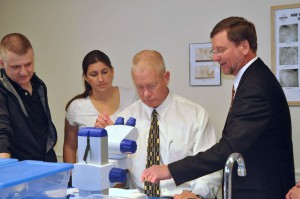 Dr Reynolds holds the National Diploma in Crime Scene Investigation from Canberra Institute of Technology, a BSc (Biology) from Curtin University and a MS (ForSc) and PhD (BPA) from the University of Western Australia. Between 2005 and 2011 he served as the regional Vice President for IABPA Region VI (Australia, New Zealand, SE Asia and Pacific Rim). Between 2005 and 2013 he was a member of the US Department of Justice's SWGSTAIN group, serving as the sub-committee chair, Business and Strategic Planning. Between 2004 and 2010, Dr Reynolds sat on Australia's NATA Field and Identification Sciences Proficiency Review Committee and as such, was required on an annual basis, to review all BPA proficiency tests Australia wide. In 2007 he was elected inaugural chair of Australia's NIFS Scientific Working Group on BPA. As the principal analyst or peer reviewing officer he has been involved in more than 130 cases that have required the examination, interpretation and reporting of bloodstains or bloodstain pattern.Dr Reynolds has undertaken training, delivered training or provided casework support in the USA, Canada, Brunei, New Zealand, South Africa, Singapore and all states of Australia. He has also been accepted by the NSW Supreme Court, NSW Police Integrity Commission, NT Supreme Court and WA's Coroners Court, District Court, Supreme Court and Court of Criminal Appeal as an expert in the scientific discipline of BPA.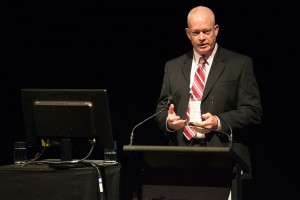 In 2009 Dr Reynolds accepted an unsworn position with WAP as a Forensic Science Consultant and Manager, Quality Assurance. With many responsibilities, including providing advice on protracted and/or complex forensic matters, representing WAP at national and international forensic forums and as an academic coach and mentor within the WAP Executive Development Program, Dr Reynolds's primary focus is to ensure that all of WAP's forensic processes are underpinned by 'good' science.
Dr Reynolds's concurrent ancillary roles include memberships with of Standards Australia Forensic Science Committee (CH-041), ANZPAA NIFS Senior Managers Australian and New Zealand Forensic Laboratories (SMANZFL) and the newly established Australia and New Zealand Forensic Executive Committee (ANZFEC). ANZFEC has a 'think tank' role and is responsible for briefing all of Australia's Police Commissioners on emerging forensic trends and issues of national interest. Dr Reynolds is also an adjunct Associate Professor at WA's Murdoch University where his primary role is supervising students undertaking post-graduate 'industry focussed' scientific research.